A Complete Guide to PLC Automation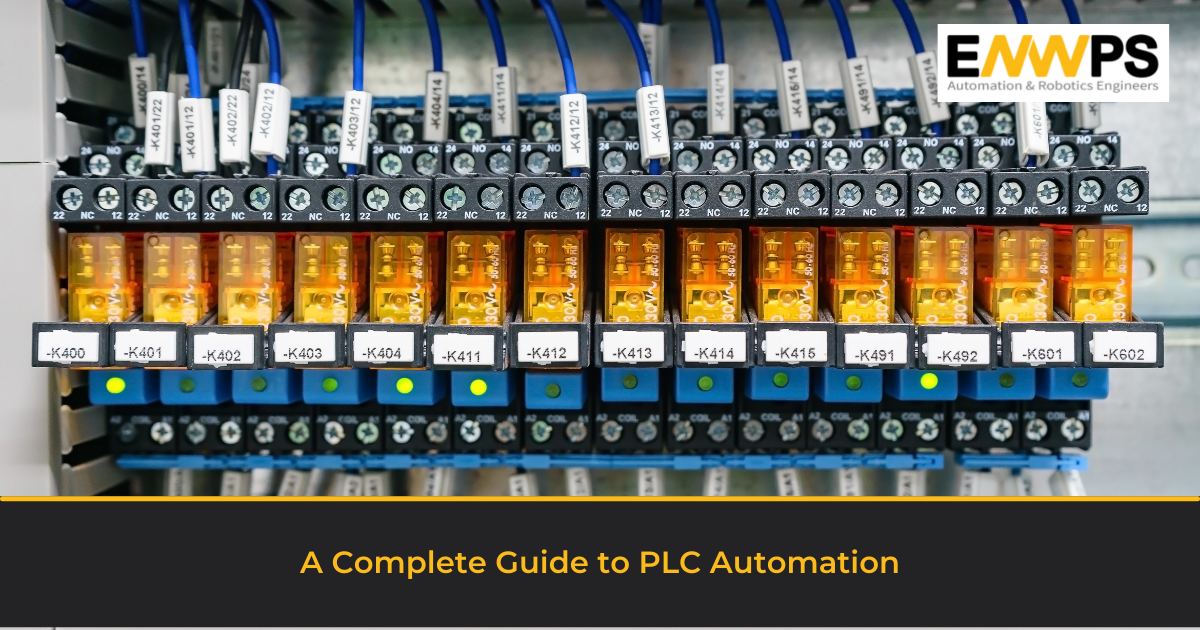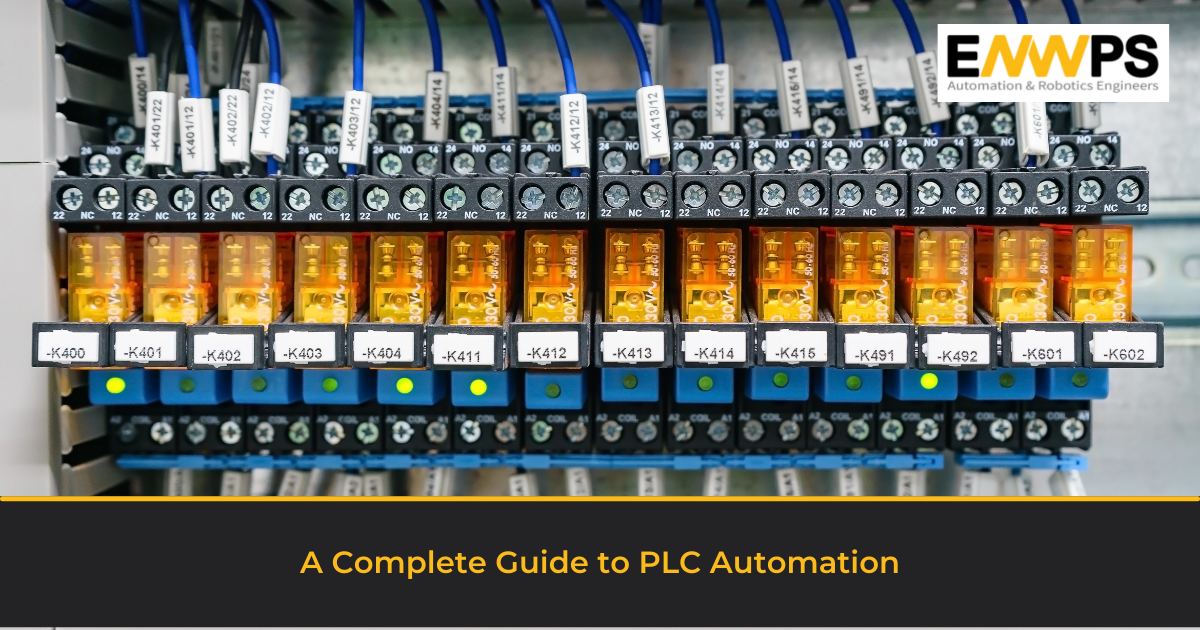 Introduction: Evolution of PLC Based Automation
The concept of industrial automation came into being in the early 20th century, long before the invention of Programmable Logic Control Systems. In the early 20th century, factories were usually controlled using electromechanical relays, wherein a switch connected to a device could be turned on or off based on input from an operator. This system was inflexible because it required thousands of relays for simple processes, and if one relay was affected by an error, it could cause that corresponding device to go out of service. Later in 1968, the relay-based system was replaced by PLC, or Programmable Logic Controllers. They were introduced to help industrial plants simplify some of their relay circuitry, which had been difficult to program in the past. The first model was designed with a clear digital display that made programming easy for engineers and technicians already familiar with relay logic and control schematics. The first PLCs were built with limited speed capabilities and storage space. However, modern PLCs have evolved to be extremely powerful with accelerated processing capacity, real-time monitoring, and other features. This blog focuses on PLC automation in today's industrial world along with advantages, use cases, and the future of PLCs. Continue reading!
What is a PLC and Why is it so Important?
A Programmable logic controller (PLC) is an industrial computer used to perform control functions in manufacturing units. This miniature computer contains hardware and software which enables automated control of electromechanical processes. It includes machinery automation on factory assembly lines like the automotive industry, food processing, etc. PLC continuously monitors inter-connected input devices like sensing devices, switches/pushbuttons and makes decisions based upon pre-feed programs to control the state of output devices/machines like valves, pumps, control relays, etc. Further, the compatibility of PLC to withstand harsh industrial environments like extended temperature ranges, electrical interference, dirt, vibration, and other factory conditions make PLC a trustworthy choice among manufacturers.
The increasing usability of PLC in manufacturing industries, machinery automation, handling systems, marine, and various other sectors is rising at a higher pace due to its prominent features like reliable controlling efficiency, sequential control, user-friendly hardware system, ease of programming etc. These unique features of PLC have gained pivotal importance and are ideally suited to the needs of modern automation.
Overview: PLC Based automation
The global Programmable Logic Controller (PLC) market was valued at USD 11.21 billion in 2020 and is expected to reach USD 15.15 billion by 2026, at a CAGR of 4.7% over the forecast period (2021 – 2026). PLC is the foundational stone for rapidly growing industrial automation trends as it is vital for industrial control systems. Increased adoption of automation systems is driving the market share of PLC. With AI and IIoT proliferating across every industry, robots have become integral in achieving efficiency in almost every sector. PLC deployment is expected to benefit significantly from the continuous installation of new automated machines worldwide since robots use PLCs for their control system technologies.
Another driving factor of PLC-based automation is its ability to remove human errors during decision-making processes in manufacturing. PLC technology positively impacts the cost of control applications by eliminating the need for hard-wired relays and increasing operational efficiencies. Market studies have observed that the PLC automation system reduces downtime by almost 20% to 4%, driving unparalleled productivity and substantial growth for businesses. There is also a need for real-time process control and speedy application with improved production efficiency, which is made possible through modern automated PLC systems. The processing/scan time of a PLC is around one thousand times per second or 0.001 seconds. PLC Automation is imperative for industrial automation with a broad range of features and ease of use and integration in the industrial setup.
Advantages of Using PLC
PLCs offer a wide array of benefits and are the most reliable choice among manufacturers for managing industrial control systems. Below are some of those advantages.
Ease of Use/Programming: Today, PLCs are becoming more powerful and versatile with increased computing flexibility, built-in wireless capabilities, and greater capacity for delivery. The latest evolution in PLCs directly benefits from USB technology, which makes it extremely easy to program, operate online, and monitor control systems. Moreover, PLCs use simple programming methods like Ladder Logic, Boolean Type, etc. Further, various feature modules can be added to increase the performance of the PLC system or as per the requirement.
Flexibility with Advanced PLC Technology: PLC software offers a straightforward framework to feed instructions or change instructions as per requirements compared to a relay-based system. Rewiring a whole relay circuit to create a new one is a daunting task, while in the case of PLCs, the logic changes are made inside the controller rather than hardware or wiring changes. The input/output ports can be connected to input and output components to create logic and write a program according to the need of the application. Later the program is downloaded onto PLC software.
Enhanced Reliability: Once a program is written and tested, it can be downloaded to multiple PLCs to secure the connection in other places with similar needs. The program is stored inside the PLC's memory, so there is no chance for an error to occur, like in the case of rewiring relays from scratch. It takes a lot of pressure off when it comes down to controlling the overall functionality of the plant with hundreds of machinery/equipment.
Multiple Points of Contact: PLCs contain a wide range of contact points for each coil available for programming for different applications.
Effortless Troubleshooting: PLCs have built-in diagnostics and can easily override any software or hardware issues. To find and fix problems, users can view the display of control systems on a monitor and check its execution in real-time. PLC control systems contain many troubleshooting features that immediately inform operators/engineers what's causing an issue. Fault indicators are displayed, and messages notify the operator of the problem. PLCs are designed to provide easier access, allowing engineers to connect with the components easily.
Lower Power Consumption: On average, a PLC system approximately consumes only 1/10th of the power compared to the relay-based control system.
Simulation Feature: PLC programming software entails simulation features to help programmers test the logic development early and check the integration with other devices. With the PLC simulation feature, installation and commissioning can be expedited and a considerable chunk of costs can be saved as errors in development and programming can be detected and rectified at the early stage. Any discrepancies at the execution stage can affect the entire functionality of the factory operation and can cause unnecessary downtime.
Communication Capacity: PLCs comprise communication capabilities to easily connect with other equipment to conduct various functions such as data gathering, monitoring process parameters, supervisory control, download, and upload programs etc.
PLC: Use Cases
The usability of PLC automation systems is dependent on the nature and requirements of the industry. Various sectors use PLC systems to standardize the processes, control operations, and other functions. PLCs have use cases in verticals like- paper manufacturing, aerospace, cement manufacturing, textiles, HVAC, etc. Likewise, in the Glass industry, PLCs combined with Bus technology are used for data recording, maintaining quality control, and positioning control during glass production. Similarly, Oil and Gas industry PLCs on well pads allow technicians to analyze the condition of well pads in different locations based on input and output devices. Later, engineers are sent out to specified well pads that require repairs, maintenance, inspection, etc., without sorting the well pads data manually.
The Future of PLC Automation
Programmable Logic Controllers will continue to evolve according to the needs of industrial automation applications. With advancements in technology, PLCs are becoming faster with wireless capabilities and high-speed ethernet, gaining enhanced programming flexibility, scalability, memory space, etc. The future PLCs are likely to get more hardware improvements and upgrades resulting in expanded functionality, continuing to fasten computing capabilities, integration with enterprise resource planning (ERP), and other higher-level computing systems to the factory floor. Data collection from processes and machines has become easier with sorting abilities. The modern PLCs will be manufactured with varied materials like fiber signals for increased durability compared to electronic signals. Combined with IIoT technology, many enhancements in PLC technology have occurred, like compatibility with smart factory environments, remote monitoring, high processing speed with solid-state drives, etc. However, PLCs will also continue to be more optimized and sophisticated as IIoT advancements unfold.
Get PLCs for your facility!
Selecting the best fit for your industrial automation needs and adaptability with plant operations is inevitable. Cost, processing speed, communication capabilities, integration with other devices, etc., are some considerations that manufacturers track while making a buying decision for PLCs. However, PLCs come with a wide range of functionality, upgrading capabilities, and other features.
Our engineers at ENWPS can help you with complete PLC supply, installation, commissioning, and programming solutions. Our professionals have qualified knowledge and experience with selection, networking, interfacing, logic development, programming, execution & proving, training & documentation, and other related services. AT ENWPS, our engineers have hands-on experience with different PLC systems like Allen-Bradley, Siemens, Schneider Electric, among others. Leave your requirements at rfq@enwps.com, and over team shall be happy to connect with you!
Significance of IIoT Adoption
Adopting IIoT can benefit a manufacturing business owner in innumerable ways driven by a widespread increase in digital transformation and ever-increasing competition in today's technology-driven world. Through the complete digitalization of the manufacturing process, one can improve operations, limit potential losses, gain visibility into shop floor operations, effectively manage supply chains and empower innovation.
Related Blog: Powerful Advantages of Industrial Internet of Things (IIoT) with Industrial Applications
Why ENWPS Is a Reliable Choice?
With over two decades of experience providing automation solutions to businesses globally, our engineers have developed a vivid understanding of the company's challenges during the transition. Our team has worked as an Implementation partner for various projects and provided bespoke solutions per industry-specific needs. Our services range from design & engineering, programming services, supply, installation & commissioning, and IIoT related jobs.
Are you looking for a trustworthy Implementation partner? Your search ends here! Email your requirements to us at: rfq@enwps.com.