A Comprehensive Guide to Industrial Automation for Modern Factory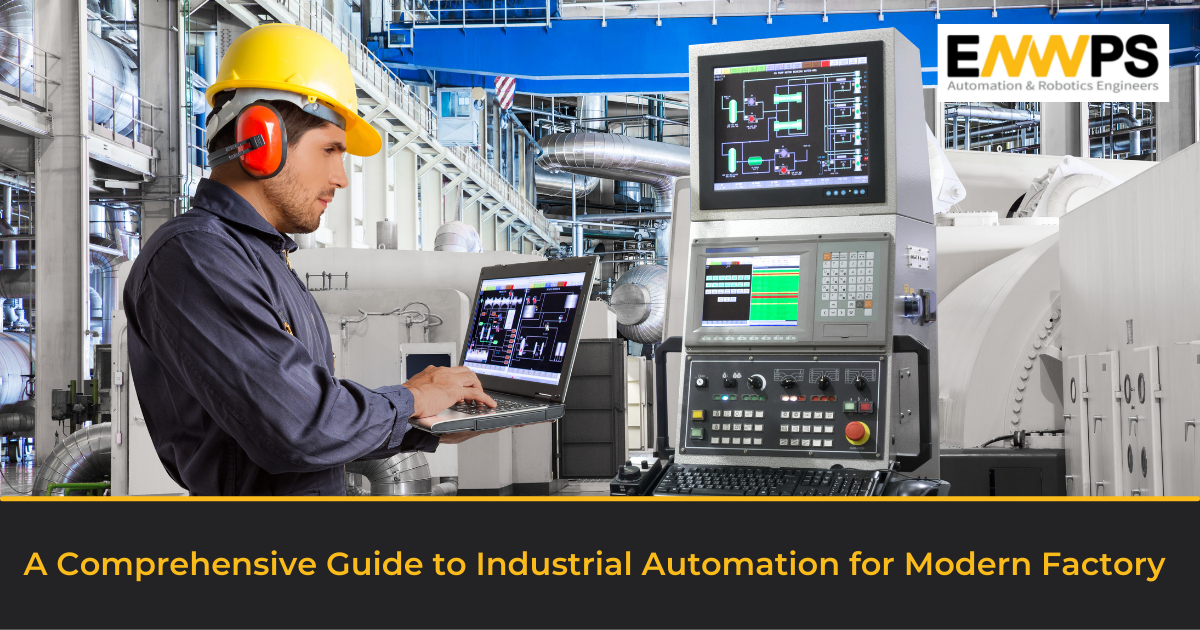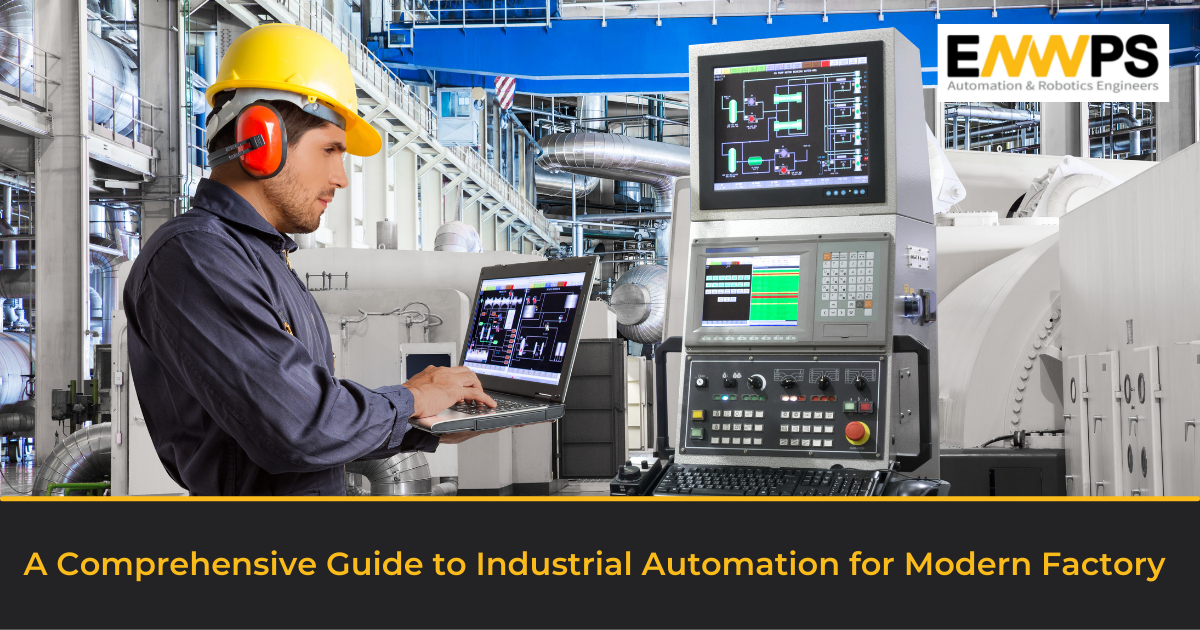 With the emergence of modern industrial automation technologies, the way industries used to operate has drastically transformed over recent years. Whether it's a small unit or a large enterprise, industrial automation has become more of a necessity than choice, and its scope is only increasing. According to Statista, the industrial automation market is projected to grow at a CAGR of around 8% from 183 billion dollars in 2020 to approximately 300 billion dollars in 2026. Apart from this, the disruption in operations due to Covid-19 led industries to rethink use of automation systems for enhancing the scalability and flexibility of operations. Industries looked up to automation and robotics solutions for achieving greater resilience to unprecedented circumstances and maintaining production efficiency.
To help businesses understand, evaluate, and implement industrial automation systems for transforming their facility into smart manufacturing units, we have compiled everything that businesses need to know!
What is Industrial Automation
Industrial automation comprises control systems and smart devices like computers, robots, etc., along with information technologies and computer software to automate industrial processes, eliminating the need for human intervention. For automating the industrial processes, a wide range of industrial communication, control, and networking devices are used, like PLCs, PACs, SCADA, DCS, Supervisory Control PCs, HMI devices, etc. Automating industrial processes helps achieve operational accuracy, financial benefits, enhance production capabilities, eliminate labor costs, etc.
Hierarchy of Industrial Automation Systems
The industrial automation systems are complex and include a plethora of high-tech devices that work in synchronization to achieve the desired result. Hence, for successful implementation of industrial automation in a business model, it's inevitable to understand the hierarchical structure. For the convenience of understanding, the structure is presented in four levels consisting of devices, systems, and software used at each level.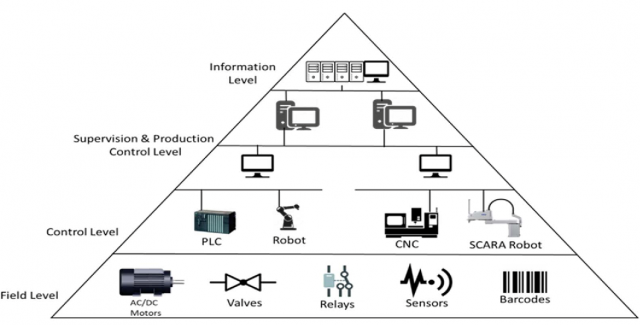 Fig. Hierarchy of Industrial Automation System (Source)
Field level: This is the bottom level from where all the required data for further manufacturing processes are transferred to the control level by use of sensors and actuators. Sensors transform real-time parameters like flow, pressure, temperature, etc. into electrical signals for controllers to interpret and carry out the further process. Similarly, actuators convert electrical signals to form mechanical movements for the processes.
Control level: This is the automation execution level where process parameters received from sensors are acquired by automation devices like PLCs and CNC machines. The obtained information is then directed to actuators for programming specific operations.
Supervisor and monitoring level: At this level, supervisory and monitoring devices like HMI, DCS, and SCADA controls the overall automation process. From setting machine start to shutdown time, specifying product targets, historical archiving, controlling product parameters etc. is facilitated at this level.
Managerial or information level: This is the topmost level which deals with the entire automation system. It includes fewer technical aspects and focuses more on commercial requirements like production planning, market analysis, order tracking, sales, etc. Various communication networks like ethernet, field buses, serial communication systems, etc. are installed for the transfer and exchange of data throughout the hierarchical structure. Gathering data and deriving valuable insights from it is the most crucial step for the management of enterprise and making informed decisions.
Types of Industrial Automation
Industrial automation systems do not follow a one-size-fits-all approach, they defer according to the requirements of manufacturing processes. Therefore, it's important to know various types of automation systems, to identify the most suitable type for your enterprise. On basis of integration level, and operational flexibility, following are the four main types of industrial automation.
Fixed (hard) automation
Programmable automation
Flexible (soft) automation
Integrated automation
For instance, an automotive industry will require flexible automation that can be easily integrated with infrastructure whenever introducing new models. Similarly, each type will cater to the diverse and unique requirements of various industrial units.
Industrial Automation Tools
For efficient management and control of industrial processes, an extensive range of automation tools is incorporated into the system. Industrial automation tools combine process, people, and technology to obtain desired results. Following are some of the key industrial automation tools used,
Programmable Logic Controller (PLC)
Supervisory Control and Data Acquisition (SCADA)
Human Machine Interface (HMI)
Artificial Neural Network (ANN)
Distributed Control System (DCS)
Robotics
Industrial Applications
Manufacturing, automobile, steel, shipbuilding, pharma, oil and gas, paper mills, packaging, etc. various industries can be benefitted from automation systems. With help of automation tools and employing reliable strategies various industrial processes like, packaging, material handling, welding, painting, metal fabrication, quality control, and inspection, inventory management, production planning, etc. can be automated.
Benefits of Industrial Automation
The advantages of industrial automation are not only restricted to businesses but also benefit customers, employees, and everyone involved with the business. From improved safety, reliability, better productivity, enhanced quality, lower operational costs, to reduction in machine downtime, etc. industrial automation has plenty of benefits.
Higher return on investment:
If implemented strategically automation systems can remarkably increase the profitability of businesses. Once past the initial implementation stage, automation provides innumerable benefits in terms of costs, ease of operation, etc. But it can only be achieved if the automation system installed is in sync with your process requirements. We at ENWPS, strategically design and implement automation strategies catering to diverse requirements of various industrial sectors. Check out our website for more information.
Elimination of error:
Since the entire process is automated, there are minimum possibilities for error as automation systems can detect errors at an initial level of production. Automated systems are also capable of self-diagnostics and quality control checks.
Be Future-Ready with our End-to-End Industrial Automation Solutions
Industrial automation has become an invaluable asset for companies around the world. With ever-growing significance and its potential to cater to custom consumer demands, the scope of automation is only going to fuel over time. It would be wise for businesses to rethink, renovate, and plan industrial automation implementation strategies for their facilities to stay relevant and competitive in the market.
ENWPS is an industrial automation solutions company located in Pune, Maharashtra (India). Our team designs, tests, validates, plans, implements, and takes care of all the operations involved for the successful installation of automation systems. Our team directly coordinates with industry personnel and provides necessary industrial automation training alongside installation and commissioning. For more information, contact us at: rfq@enwps.com. We look forward to helping your business achieve its organizational goals.