All you need to know about Human-Machine-Interface (HMI) Systems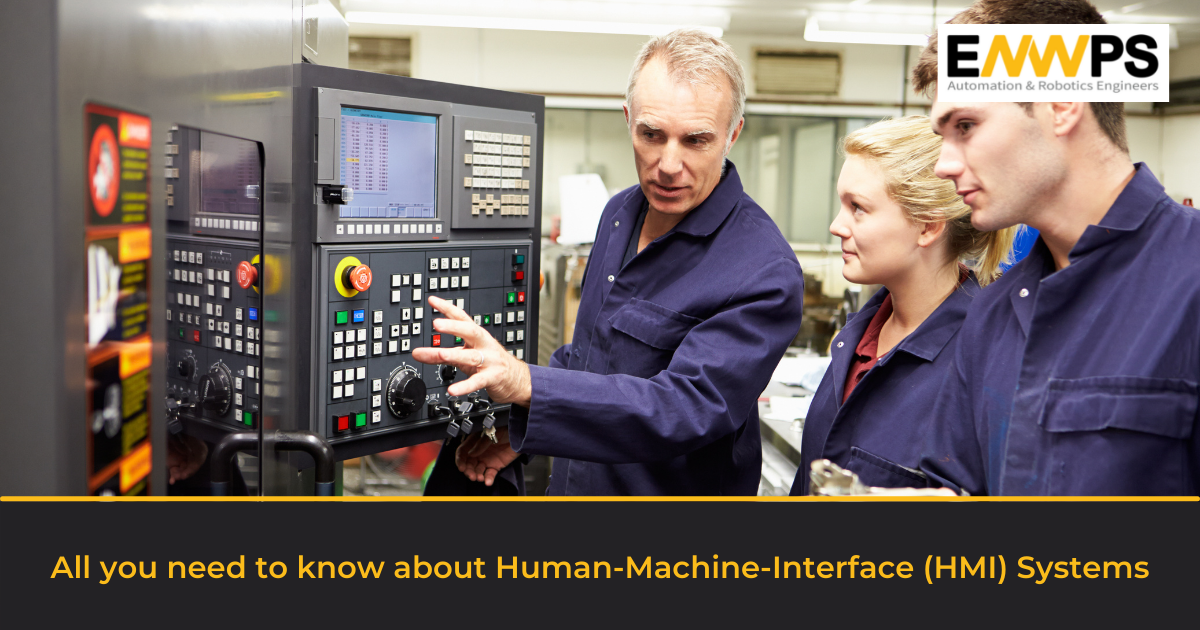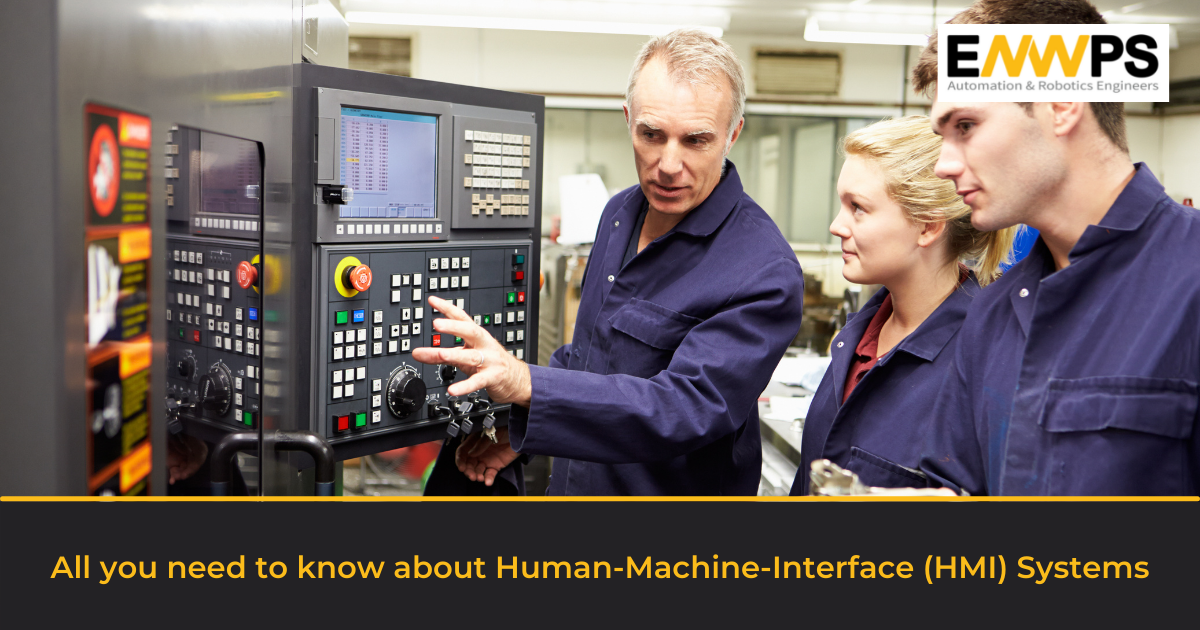 The industrial landscape is becoming more sophisticated and expanding rapidly, arousing the necessity of an efficient user interface that allows operators to view, control, and manage operations from remote sites or on-premises. As the number of machines and equipment expands, the manual control and monitoring of each of them becomes impossible. HMI systems play a paramount role in the control, performance monitoring, and optimization of processes in an industrial setup. HMI systems are interconnected with PLCs and SCADA systems to gather the process data and showcase it graphically for easy comprehension of the operator to make faster decisions.
HMI Systems: An Introduction
The Human-Machine-Interface or HMI systems are hardware/software-based control system that allows interaction between humans and machines. Before HMIs (Human Machine Interfaces) gained momentum, the control and monitoring operations were conducted by a hardware control panel that consisted of hundreds of LEDs & pushbuttons. However, with modernization and the technological boom, many advancements in HMI technology occurred. Today, many industrial systems use software-based HMIs to enhance visibility, ease factory management, and support efficient & safe interaction between the operator and machines. An HMI allows operators/engineers to communicate and exchange data between devices on a broader level. HMI systems are used for various industry-specific functionalities such as – progress tracking, monitoring machine I/O, keeping a check on key performance indicators, mechanical process management, analyzing trends, etc. All this information is visible on the connected screen, laptop, or mobile device.
The modern HMIs use a hardware device that runs the HMI software allowing machine/field data transformation from industrial control systems into graphical representation for human readability.  Various HMI softwares are available in the market like FactoryTalk View Studio Machine Edition, FactoryTalk View Studio Site Edition, RS View 32, Eco Structure Operator Terminal Expert, etc., to name a few. These softwares come with different configurations, like FactoryTalk View Studio Machine Edition, which is used for programming standalone HMI terminals. At the same time, FactoryTalk View Studio Site Edition is deployed where control of an entire facility is involved. Similarly, businesses can choose from a varied range of software and use the best-suited one for their facility.
The HMI systems provide real-time monitoring and visibility into each production stage, allowing technicians to control overall processes from a centralized/distributed command center. The real-time visibility provides opportunities for process improvement as per operational requirements, aids in quality maintenance, leads to higher accuracy, mitigates downtime, improves efficiency and throughput. HMIs have found their usability in varied sectors as a problem diagnostic and data visualization tool. The HMI technology reduces the manual control, eliminating issues caused due to lack of data, process failure, or human error. All the information can be assessed through customized digital dashboards, in desired formats. Operators can manage notifications and alarms as per process requirements, all through a single console. Moreover, HMI systems enhance staff safety and aid in equipment maintenance by leveraging machine data and knowledge base systems.
History of HMI Systems
The evolution of HMI systems is derived from the need for a user interface with field machinery to control & monitor processes and increase production output levels. From push buttons to the invention of graphical user interfaces, the evolution of HMI systems has occurred unprecedentedly.
The Batch User Interface was one of the initial non-interactive user interfaces developed to control and monitor machinery.  Punch cards were perforated into batch machines along with codes to calculate the output once processing was done. However, it was impossible to feed codes during the machine processing, nor was it an interactive interface and had several limitations.
Later, with the popularity of computerized systems in industries, the Command-Line Interface emerged. A set of commands were fed into the computer system or software for performing a specific task, and the procedures were based upon the result on-demand approach. The Command-Line iInterface did overcome the interactivity issues of batch interfaces, but as complexities increased, there was a need for more enhanced visualization capabilities and easier-to-use interfaces.
With technological advancements, the Graphical User Interface (GUI) was invented, allowing more visual control through programs, symbols, display systems, and touch screens. This brought about revolutionary changes in industrial control and monitoring systems, and soon it became widespread in manufacturing facilities.
Even screen displays evolved from CRTs, LCDs, LEDs to recently used OLED displays. Today, HMI systems are available in different variations and are integrated with several other technologies for industry-specific needs.
Are HMI and SCADA Systems Similar?
Supervisory Control and Data Acquisition (SCADA) and Human-Machine-Interface (HMI) systems are often confused to be used in the same context. Both the systems are closely related and are essential elements of larger industrial control systems. Let's understand the differences between the two.
SCADA stands for "Supervisory Control and Data Acquisition." It is used for monitoring and controlling large industrial areas or an entire plant. SCADA systems combine many systems, including sensors, RTUs, PLCs, and SCADA servers. The data gathered from all these systems is transmitted to the central SCADA unit. That SCADA unit has its own HMI. The HMI or "Human Machine Interface" unit on the SCADA can monitor and control all interconnected devices. Therefore, arousing confusion that SCADA and HMI are one.
On the other hand, HMI systems work on a larger scale, using PLCs or other control systems as their central processing units to gather field data and showcase the data in graphical or user-defined formats using HMI software.
In conclusion, Every SCADA is an HMI, but every HMI need not be a SCADA.
To know more about SCADA systems, check out our blog: Blog Link: Everything You Need to Know About SCADA Systems)
Advancements in HMI Systems
HMI technology has evolved exceedingly to match the requirements of modern industries and support automation. There are three basic types of HMI systems- Pushbutton Replacer, Data Handler, and Overseer. The most basic HMIs replaced pushbuttons streamlining the manufacturing processes through a centralized control function. The Data Handler HMIs are used where there is a need for constant feedback from the operation floor. On the other hand, the Overseer one is the most advanced of all, which provides centralized control for the entire facility. It operates through connected ethernet portals, SCADA systems, and other software programs for more advanced control and monitoring. It helps analyze trends, diagnose errors in real-time, and manage factory data and operations.
Today, various other HMIs have evolved along with traditional HMIs to enhance the interface with equipment and efficiently analyze factory data. Below are some of the advancements that occurred in HMI technology.
Increasing Use of Touch Screens, Mobile HMIs, and Remote Monitoring
The emergence of touch screens and mobile HMIs have revolutionized industrial control systems. HMIs have replaced pushbuttons and switches, allowing instant access to operators through touch screens. Using mobile HMIs during remote monitoring allows operators to monitor equipment in real-time from anywhere. They are also convenient for projects that require industrial control via web-based applications. Remote monitoring through mobile applications-based HMIs allows greater flexibility and increases operational efficiency when off-site control is needed.
High-Performance HMIs
The High-Performance HMIs are the most widely used HMI technology, as it allows for better factory/operations surveillance and enhances situational awareness of the operators. Combining the state-of-the-art interface design, increased ability, better graphical representation, more optimized use of color, efficient use of screen display, and better system experience makes these HMIs widely used. These features result in improved quality of information, fault prevention, and increased operational efficiency.
Edge-of-Network and Cloud HMIs
Low latency, improved network connectivity, and reduced risks of security threats are the driving factors for the rising use of Edge-of-Network HMIs. This allows operators to access and visualize data in real-time directly. While Cloud HMIs are deployed for remote monitoring of industrial systems, their usability has increased in the post-pandemic world, as more industries realize the need to shift to remote monitoring. Additionally, both the HMIs are deployed in many industries, wherein control capabilities are reserved for the Edge-of-Network HMIs, and the local servers send the information to cloud servers for remote monitoring, data analytics, and empowering decision-making at enterprise levels. Furthermore, Cloud HMIs allow better computer resources to analyze data, study trends, widen opportunities for machine learning and overall process improvements.
Conclusion
With ever-increasing advances in technology, many new developments in HMI technology are taking place. Likewise – Voice-activated HMIs, AR/VR -based HMIs, Wearable HMIs, Gesture-technology-based HMI devices, Haptic technology and NLP-based HMI solutions, OLED touch screens, etc. The possibilities of advances and usability are limitless because, with each passing day, industrial operations will become more complex, and needs will evolve. Today, HMIs are widely used for various applications, including industrial automation, aviation, and space equipment, robotics control, automotive industries, etc. The HMIs empower faster decision-making, more productivity, flexibility, and profitability for businesses.
Selecting the Right HMI System for Your Enterprise
It's quintessential to have a solid framework of HMI requirements and development considerations to be examined beforehand. It impacts many factors like- cost, efficiencies of the workforce, ROI, data processing and reporting, analysis and decision making, etc. Required attributes, compatibility with factory equipment, the nature of business, security constraints, low-risk investment, including other considerations, are to be focused upon when selecting an HMI.
At ENWPS, we have successfully implemented various industry control projects for global leaders in the industry from different sectors like automotive, manufacturing, FMCG, processing industry, etc. Having worked on several projects for the past two decades and more, our team has accumulated domain expertise and understands the finer details of the selection and installation process. We offer comprehensive PLC, HMI, and SCADA programming, development, and installation services. Our service offerings include-
Networking
Interfacing
Logic Development
Programming
Screens Development
Execution & Proving
Training & Documentation
For more information or assistance, send us an email at rfq@enwps.com.