IIoT in Manufacturing: Importance, Advantages, Smart Use Cases and More!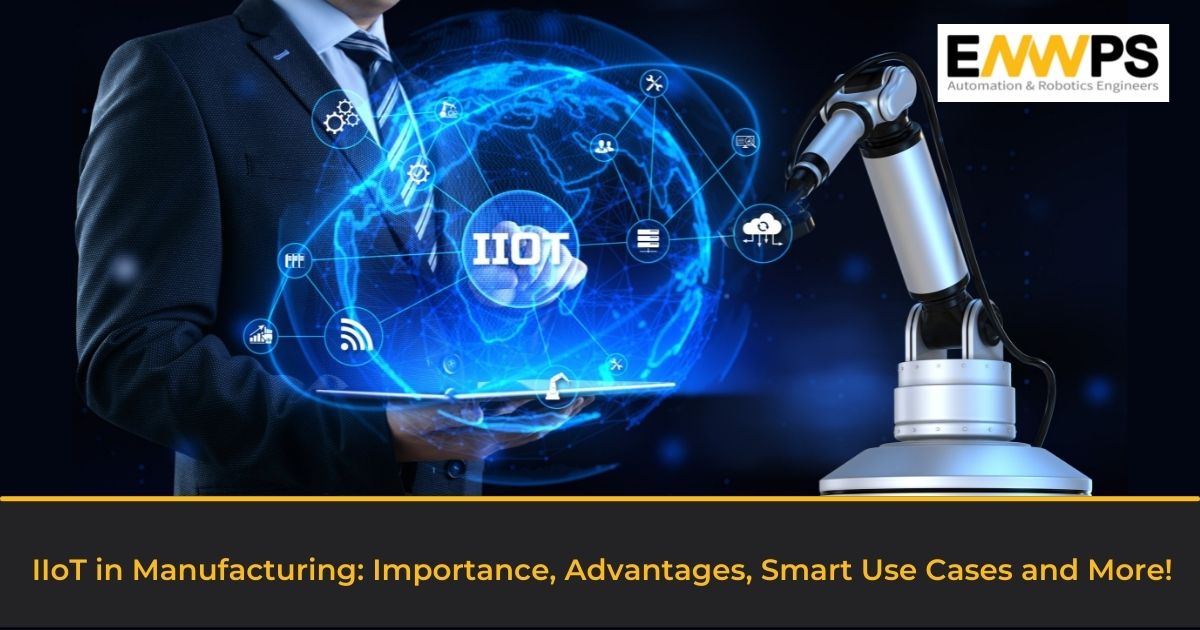 The manufacturing industry is currently undergoing a burgeoning digital transformation globally. The new age information technologies and operational technologies are transforming facilities into more innovative, faster, and more scalable units. From maintenance, supply chain operations, industrial asset tracking, process optimization, human resource management to barring none of the activities, IIoT solutions are bringing about the rapid transition through continuous improvement. Industrial Internet of Things has opened a plethora of opportunities for businesses to use the valuable real-time data for their win! IIoT empowers personnel at all levels to detect problems and inefficiencies beforehand. This data-driven decision-making takes the guesswork out from solving problems and optimizes operations, resulting in cost reduction, enhanced visibility, better facility management, etc.
The Competitive Edge of Implementing IIoT
In an effort to uncover new ways of strengthening manufacturing processes, businesses worldwide are resorting to digital transformation led by IIoT. The recent industry trends are headed towards becoming digitalized, focusing on becoming service-centric over product-centric, and adopting cybersecurity measures. Precisely, this is where IIoT for manufacturing comes into play.
An executive summary by Forbes Insights mentions that "Digital transformation sits atop the strategic agenda for enterprises, according to a Forbes Insights and Hitachi survey of 573 top executives worldwide. The next two years are critical in this regard, as half of them believe that their organizations will be vastly digitally transformed in that time."
However, early adopters are already leveraging Industrial Internet of Things solutions and witnessing drastic positive change in overall plant and business efficiency, as emphasized by Bsquare in its annual IIoT maturity survey. It reports that 86% of manufacturers have already adopted IIoT solutions, and 84% of them find IIoT extremely effective.
IIoT Adoption in Manufacturing Units
For successful adoption and implementation of IIoT in manufacturing, the four pillar IIoT components need to be incorporated as stated below:
Intelligent asset: The primary role of these assets is to enable connectivity and sustain continuous data gathering for analytics. Sensors, edge devices, IoT gateways, embedded systems, and other built-in-intelligent equipment form the foundation for intelligent assets.
Data Communication Infrastructure: Data Communication between these assets and other entities requires network technologies such as LTE, Zigbee, and Wi-Fi. However, often IIoT systems are deployed via cloud-based computing infrastructure to maintain extensive data requirements.
Software/Application: To equip factory personnel with an easy, reliable, and flexible interface to interact with IIoT systems and interpret gathered data, software, or applications plays a significant role.
Human Resource: The operators or managers involved in interacting with the IIoT system, monitoring performance, and making decisions, create the impeccable part of the successful adoption of IIoT. Therefore, personnel training and selection shouldn't be overlooked while adopting Industrial IoT solutions.
Significant Advantages and Influence of IIoT
Enhanced Industrial Machinery/Equipment Utilization: Ensuring each equipment and machine in the industrial setup is utilized up to an optimum level and is in good health might seem a herculean task when done manually. But, with Industrial IoT based machine/equipment management, overall equipment effectiveness (OEE) and overall process effectiveness (OPE) can be easily measured and maintained at each manufacturing stage. It will result in lesser downtime, and increased output.
Just in Time Manufacturing: Real-time data reporting makes Just in Time manufacturing possible. Having up-to-date and prompt information allows manufacturers to make crucial economic, process, and quality decisions that affect the entire production line and end-product. Operations can be adjusted via live data to eliminate waste and ensure that production is finished in time to coincide with raw materials availability and planned timelines.
Market Forecast: A manufacturing facility must implement the required steps to prepare for any impact on products/services. For this purpose, IIoT solutions enable effective data mining and help generate actionable insights from it. Data from all over the enterprise provides visibility into manufacturing management, operational quality management, product and customer preferences, inventory, costs, output patterns, etc. This predictive analytics enables the optimization of businesses for overall success.
Inter-connecting Remote Assets: Connecting devices means that data from remote assets are now accessible from a central location. This gives more remote control over what's going on at/in the plant. For example, one can check in on inventory and make changes to pricing or stock when necessary, based on data collected from what's happening on-site. It facilitates the process of monitoring and securing assets. This equates to greater control over remote resources located in disparate areas, making them easier to oversee from afar.
Some other benefits of IIoT implementation involve reducing lead time, optimizing factory management, industrial process monitoring, enhancing the quality of products, etc. IIoT based solution is potent and can create significant operational, financial, and managerial benefits.
Use Cases: How Are Industries Leveraging The Power of IIoT?
From maintenance, monitoring, process optimization, asset tracking, or any industry-specific task, IIoT based solutions can help streamline and manage the overall operations/activities. Below are some of the frequent and essential use cases of IIoT;
Condition-Based Maintenance: A key feature of an IIoT solution is the use of real-time data collected from the various sensors and actuators within a manufacturing plant. By streaming this data over the internet and analyzing it, operators/ maintenance engineers can develop detailed usage and status reports about equipment. This kind of information can tell precisely how assets and machinery are being used to assist in planning future ventures and improve efficiency within the company's overall assets, thus improving the lifespan of machines.
Enhancing Quality and Assisting in Inspection: The importance of quality inspection cannot be denied when it comes to manufacturing. It gives operators/engineers an upper hand in catching defects early before they become a big problem and allowing them to be resolved before they interrupt the further process. IIoT solutions incorporate IIoT devices such as machine vision cameras, scales, calipers, and temperature/humidity sensors connected with intelligent sensors to increase precision in the inspection process.
Apart from the above-mentioned Industrial Internet of Things use cases, the objectives achievable through IIoT solutions are limitless. These solutions focus on industry-specific needs and hold immense potential in data gathering, monitoring, and analyzing as per requirement—for instance, vibration monitoring for milling machines, condition monitoring of fluid cooling systems, etc.
Accelerate Your Business with IIoT
It's not an exaggeration to say that Industrial IoT exposes a business to innumerable growth opportunities, aids in quality management, and maximizes profits. However, every business is unique, so the implementation and adoption of IIoT solutions differ to ensure that all the efforts are made to drive innovation in the most impactful areas of the business.
If you are a business looking to elevate your manufacturing unit, our experienced engineers at ENWPS can help you! From IIoT, automation solutions to professional design and engineering services, our engineers possess rich experience in various industry verticals to help businesses achieve newer heights.