Industry 4.0 Automation Benefits, Challenges, and Future Scope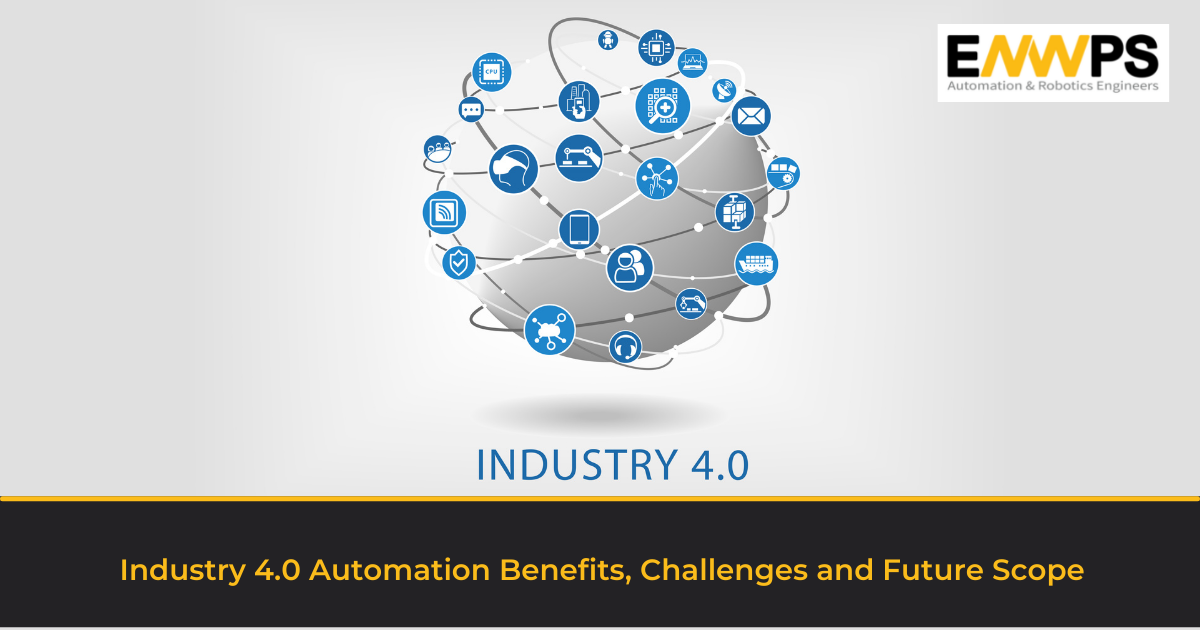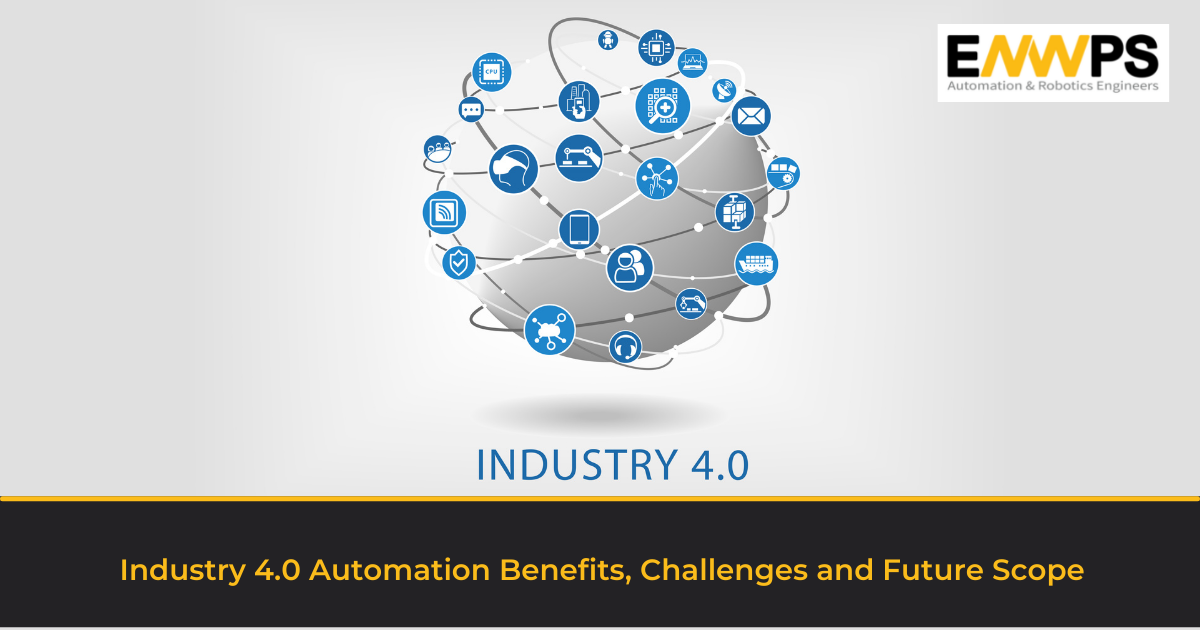 Industry 4.0 is drastically transforming the shop floors, production systems, business models, supply chains, and all the associated operations. The industry 4.0 manufacturing integration is leading the way towards better visualization of industrial network, hyper flexibility in production management, intelligent tracking of processes and supply chains, self-optimization, enhanced adaptability, etc. This upsurge in manufacturing and management capabilities is turning out to be extremely rewarding concerning monetary gains and end-quality of the product. Industry 4.0 sets up a collaborative environment between physical systems and humans to establish smart business operations to sustain growth and resilience to unprecedented circumstances.
To help understand the potent of industry 4.0 automation more precisely, below we have gathered some invaluable benefits of execution.
Industry 4.0: Potential Benefits of Implementation
Strategic Competitive Advantage: Factory automation makes it easier to widen your product and service offerings, bringing in new possibilities for your business to escalate. The industry 4.0 automation manufacturing tools and processes provide greater flexibility of operations, lower operating costs with the use of automation and robotics, and foster better customer relationships through optimum product quality. By strategically utilizing industry automation, organizations can garner incomparable outcomes.
Organizational Performance: The industry 4.0 solutions used for factory automation generates a conducive environment for powerful organizational transformation. Functional proficiency, better utilization of assets, enhanced use of factory data, digitalization of production systems, strengthened connectivity between equipment and systems, reduced risk of errors, automated restructuring of procedures, and improved worker safety, etc. are some of the crucial aspects positively impacting the organizational performance of the enterprises.
Decreased Costs and Higher Gains: Industry 4.0 manufacturing reduces costs involved in day-to-day operations, resulting in boosted profits. The use of automation technologies helps increase product accuracy, reduces lead times, decreases labor costs, enhances labor productivity etc., resulting in decreased costs. Industry automation allows continuous monitoring and process regulation of huge production lines by reducing the risks of failures, cycle-times, equipment breakdown expenses, etc. With higher sustainability of assets and real-time surveillance, a substantial amount of costs can be saved.
Enhanced Quality of Products: Industrial automation technology and tools can detect quality errors at every step of production and are equipped with automated resolving capabilities. The collaborative use of robotics applications, automation tools, cobots, sensors, IIoT-empowered quality enhancement, etc. ascertains optimum product quality.
Opportunities for Innovation: The surplus amount of data generated and processed through industry 4.0 automation tools, fuels opportunities for product and process innovations. Based on historical and current data, the connected devices predict process improvement areas and their impact. Moreover, with digital twin technology, simulation, and AR/VR, new product development can be initiated without manual prototyping. The interoperability of assessing real-time data, that industry 4.0 provides is the principal advantage of industry 4.0 automation to create growth opportunities.
Industry 4.0: Challenges and Solutions 
With greater benefits, come greater challenges. Industry 4.0 automation brings along some underlying risks that come into view during and after the transformation process. An article by Industry Week states, 2 of 3 companies piloting digital manufacturing solutions fail to move into the large-scale rollout. Hence, it's important to pay attention to those obstructions, evaluate their consequences, and deploy solutions before they hinder the functionality of the enterprise.
With close analysis and understanding of implementing factory automation, we have listed down potential challenges and solutions to overcome them.
Workforce Preparedness: Industry 4.0 automation encompasses a collaborative approach between humans and machines, significantly changing the working environment. Operators and technicians will require training and assistance in developing the technical know-how of industry automation. Hence, while selecting an industry 4.0 implementation partner, always check for their training and documentation service offerings.
Cybersecurity: With increased connectivity of equipment, large-scale exchange of data, virtualization of servers, and expansion of interconnected networks, cybersecurity concerns have gained momentum among businesses. To address this challenge, advanced security models need to be included while executing industry automation.
Functional Disruptions: In the period of transformation from traditional setup to factory automation, the functioning of the industrial process undergoes major changes and might come to a pause for some time. Henceforth, it's quintessential to have a strategic plan ready well before carrying out industrial automation. Besides, businesses should also consider the timelines provided by the vendor for enforcement of the entire process. This will help create a structured and concrete plan to overcome functional disruptions.
High Investment Cost: While higher investment costs are some of the major issues pertaining among the decision-makers, with an effective transformation model in place, the investment costs can be recovered in a specific duration. As industry automation solutions enhance scalability, agility, and resiliency to meet changing work environments, there are higher chances that the benefits will exceed investment costs in a certain period.
Revisiting Business Models: Factory automation with industry 4.0 brings about fundamental changes in the way businesses work. From business models to pre-defined working strategies, to the functioning of entire systems and processes, the factory transformation creates a multifaceted impact. Therefore, it's inevitable to reexamine and create a concrete framework for the business model as the automation transformation takes place.
Understanding the Future Scope of Industry 4.0
Industry 4.0 automation has turned out extremely rewarding in terms of financial aspects and quality of products, despite higher investment costs. For instance, take the case of Siemens' PLC manufacturing plant in Amberg, Germany, where it has taken digitalization to the point by automating the production of its automation systems. The result is a reported 99.99885 percent perfect production quality rate—an impressive one given the plant produces around 12 million Simatic PLCs each year (Source). The smart factory and industry 4.0 manufacturing are setting up a benchmark for businesses to escalate their overall plant efficiency and achieve performance excellence. Moreover, industrial wireless communication, cybersecurity, remote monitoring, and customization will be the primary focus among businesses that are under the transformation stage.
Factory automation in the future will elevate the level of potency as industry 4.0 technologies will operate alongside humans, supporting them to best leverage smart machines and advanced technologies. Moreover, automation and robotics applications will continue to accelerate in industries as they lay a foundation for industry 4.0 technologies to operate. Regardless of what new technologies emerge in the coming years, automation and robotics will hold an inevitable position in years to come.
If your business hasn't incorporated automation and robotics yet, then it's high time you embrace this technology!
How ENWPS can help you succeed?
ENWPS can help business transform their factories to adopt and fully embrace industry 4.0 automation. Our turnkey solutions include,
With over 20 years of experience in providing automation and robotics solutions, we have developed an extensive understanding of industry ecosystems to guide businesses for the successful integration of advanced technologies.
Our experts are just an email away. Get in touch at: rfq@enwps.com!