Understanding Industry 4.0 Technologies and Its Unmatched Utilization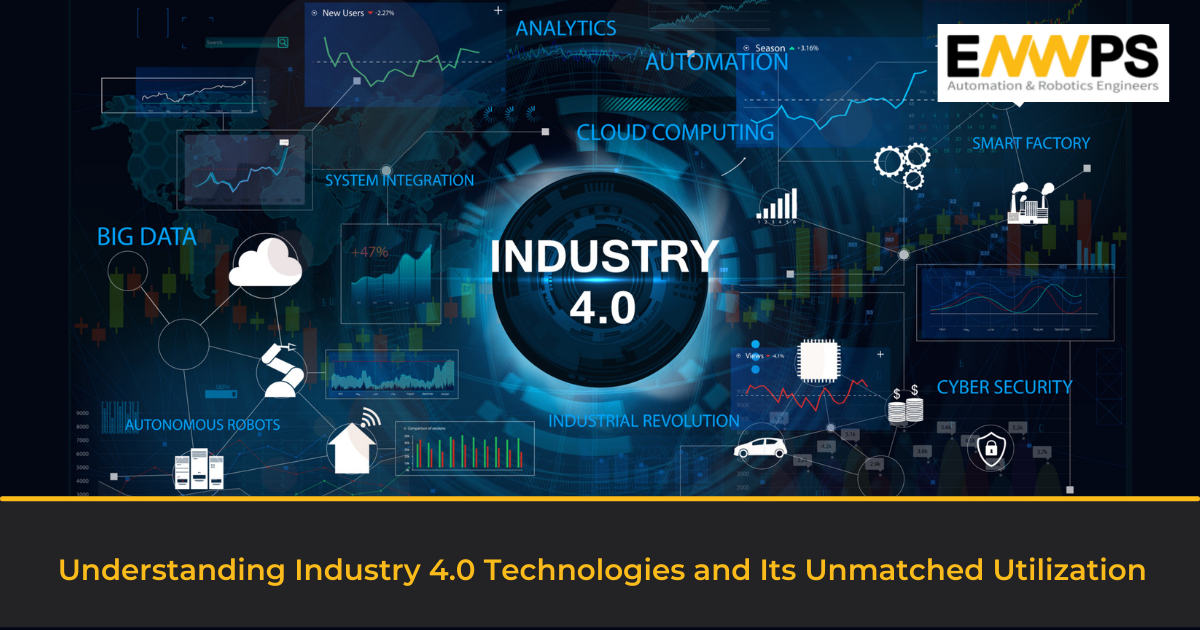 Introduction: Role of Industry 4.0 Technologies in Manufacturing-Units
Industry 4.0 is bringing about phenomenal changes in the way businesses handle manufacturing operations. Digital technologies like artificial intelligence, big data, and analysis, augmented reality, etc. are helping businesses gain insights and visibility into operations for optimizing industrial resources. These insights and information gathered are valuable for historical analysis, eliminating irregularities, and supporting automated decision-making for machine-controlled optimization of the industrial process. Augmented by advanced technological solutions, Industry 4.0 has immense advantages helping businesses gain a competitive edge, stay relevant, and acquire customers.
Key Industry 4.0 Technologies:
Below are some of the top digital technologies in Industry 4.0 automation, that businesses are leveraging to their advantage. We have also gathered smart uses and advantages of these technologies in a manufacturing setup.
Manufacturing industries generate a plethora of data on daily basis, and it's humanly impossible to assess the entire information manually and be able to drive value from it. However, by tapping into today's modern data processing capabilities and proper documentation, the unorganized information can be converted into actionable insights.
Advantages:
Improving asset performance and optimization with real-time information about processes and equipment. It can help prevent unexpected machine breakdowns and avoid downtime.
Allowing to collect, analyze, and evaluate data for introducing product customization based on customer feedback or requirements.
Enhancing supply chain management through effective reporting and documentation of each step involved in the process.
Autonomous Robots
These are self-sufficient and extremely intelligent automated machines capable of performing end-to-end tasks without human help. Autonomous Robots are agile, speedy, and capable of handling complex operations with precision. They are equipped with sensors and cameras making them self-reliant to handle their work arenas without any external inference.
Advantages:
Autonomous Robots can operate in hazardous environments. Their operational efficiency widens their utility in industries as it results in improved staff safety.
They are capable of re-work, eliminating errors, improving accuracy, and boosting productivity rates.
Ultimately enhancing revenue by minimizing production lead times and achieving customer satisfaction.
The Industrial Internet of Things is the foundation stone of Industry 4.0 technology. It refers to the use of smart sensors and actuators capable of transmitting the required information, that help gather and monitor real-time data in a manufacturing setup. This harmonization in industrial components makes up for tremendous benefits in terms of enhancing the usefulness of data and optimizing industry operations.
Advantages:
Improving product quality, process performance, and operational efficiency by enabling data-driven decision-making.
Enhancing overall equipment effectiveness (OEE), predicting potential failures in process and equipment.
Creating an interconnected network to monitor industrial operations remotely anywhere and anytime.
Simulation/ Digital Twins
Simulations or Digital twins makes use of digital models for producing virtual replicas of industrial process, facility, supply chain, etc. Based on data from IoT sensors, devices, PLCs, actuators, and other interconnected devices, a digital twin is developed for elevating the workflow of the industries.
Advantages:
Digital Twins/ Simulation strengthens research, development, and design of products to enhance the performance outcomes.
It allows operators and factory managers to anticipate issues that might reflect in the future and also indicates the areas of improvement in product or process if any.
Cybersecurity  
With the emergence of varied industrial technologies, increasing dependency upon digitalization of manufacturing operations, and interconnectivity, a grave need for a vigorous cyber security system has aroused. To prevent vicious cyber-attacks and malware it's inevitable to adopt a cyber-security approach.
Cyber-physical systems are one of the most ingenious innovations of Industry 4.0, with real-time data collection, analysis, and transparency of manufacturing operations and also ensuring the security of data being gathered.
Advantages:
Improved security of company's credentials.
A business holds valuable information of its clientele and if one can prove that its business effectively protects data against cyber threats, it will encourage trust in customers and lead to attracting new customers.
Augmented Reality (AR)
Augmented reality is the fusion of the real-world and computer-generated interactive world, gaining immense popularity among modern manufacturing units. AR is a powerful technology capable of simplifying critical operations and reinforcing industrial operations.
Advantages:
Increasing efficiency of product development. With AR technology, products can be tested and improved at the design phase, saving costs of manual prototyping.
AR can assist operators in various complex tasks. For eg.- assembly of a space aircraft, with guided instructions, the operator can keep a check on each step ensuring no errors.
Moreover, AR also supports troubleshooting and maintenance activities in industries, aiding in quality assurance, reducing overhead costs, and improving throughput.
Artificial Intelligence (AI)
Artificial Intelligence is the combination of different technologies enabling software and industry equipment to sense, comprehend, learn, and act on their own or support human activities.
Advantages:
AI supports design and development, maintenance, and other industrial operations based on collected data. Ultimately, assisting humans for better decision-making.
AI technologies have the potential of helping businesses achieve six-sigma standards by eliminating defection in manufactured products.
Role of Automation and Robotics in Industry 4.0
Automation and Robotics are the foundational technologies of a smart factory. Industry 4.0 automation technologies unlock an abundance of positive outcomes in terms of costs, productivity, accuracy, and efficient management of the entire industry processes. It enables businesses to prosper and create robust industrial ecosystems for leveraging their assets to maximum potential. The factories of the future will develop a more conducive environment for robots and people to work collaboratively to fulfill consumer demands. The unrivaled benefits and ability to generate higher ROI over time are encouraging manufacturers to adopt, incorporate and act upon industry 4.0 technologies.
Scale up your facility with ENWPS!
ENWPS provides turnkey industrial automation solutions across various sectors of industry. Our solutions have facilitated our clients to scale up production management, optimize assets to reduce downtime, save up costs of rework or scratch, and drive maximum productiveness.
Fortify your industrial operations, with assistance from qualified professionals. Connect with us at: rfq@enwps.com!